RESIDENTIAL COOLING SYSTEMS
On the warmest of months, your dependable and efficient air conditioning systems needs to make it through and not leave you feeling uncomfortable. Ask us about the best system, size, and style to suit your home or commercial needs.
Total Home Comfort offers various cooling systems from our Suppliers.
Our team is committed to finding the cooling solutions that work best to keep your home cool, with the best efficient units to save you money over the long term. We'll offer you options that work for the size and needs of your particular spaces.
Wide Selection for Any Need or Budget
Powerful, Precision Technology
Incredibly Quiet Air Conditioning Systems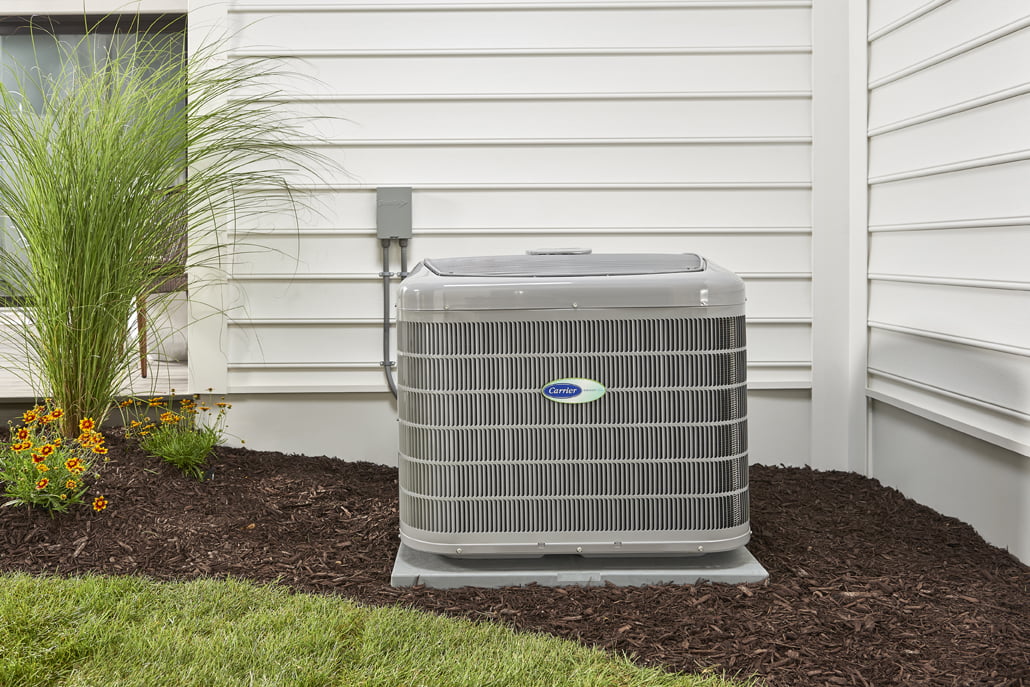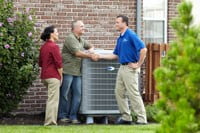 The Infinity® System
Introducing the ultimate expression of Carrier® expertise and innovation. Infinity® System includes top-of-the-line heating and cooling products that offer a range of capabilities and patented technologies. Our advanced system control allows you to synchronize your comfort needs, receive energy reports to better maximize savings and more. The Infinity System is smarter, more efficient and more powerful than our non-communicating systems. It redefines comfort as we know it.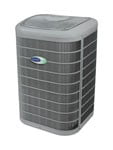 The Infinity 26 air conditioner with Greenspeed intelligence takes Carrier's most advanced technology to the next level. If it looks like next-gen technology, that's because it is. This energy-efficient AC unit offers enhanced cooling, extra energy efficiency and ultra-quiet comfort where it matters most — in your home.
STANDARD FEATURES
Includes Greenspeed intelligence
Up to 50% quieter than our nearest competitor2
Advanced humidity control – Can remove up to 400% more moisture than standard systems.3
Fully variable-speed compressor operation helps reduce indoor temperature swings
Over-the-air software update capabilities
Filter drier system protection from moisture and contaminants
WeatherArmor™ Ultra protection for durability
Non-ozone depleting Puron® refrigerant
10-year parts limited warranty4
10-year unit replacement limited warranty

If there is an air of superiority to these units, it's because they're the quietest, most efficient AC units Carrier makes. Built for total home comfort, our Infinity series central air conditioners offer an enviable SEER rating of up to 19. Combine it with our innovative Infinity® control for the highest degree of comfort management.

Presenting a reliable, energy efficient and quiet way to cool your space—no matter how much space you have. In addition to a traditional air conditioner, the Performance series line includes a compact AC unit for tighter installations. Both types can operate more quietly than most dishwashers and offer impressive SEER ratings.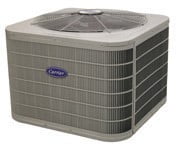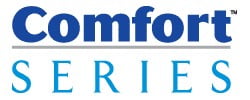 Looking for the most economical way to improve the reliability and efficiency of your central air conditioning system? Turn to the Comfort series. With impressive SEER efficiency ratings ranging up to 16, they are likely to cut your utility bills. And because these models can run even quieter than a common hair dryer, it is easier on your ears as well. 
No ductwork? No problem.
The Carrier Ductless system compensates for a lack of ductwork to heat and cool those areas in your home that need it the most. Additions, sunrooms, workspaces, or any commercial spaces or offices that need a steady comfort system will benefit from the single, or multi-zone system offered by Carrier Ductless. Quiet operation, remote control, and efficient.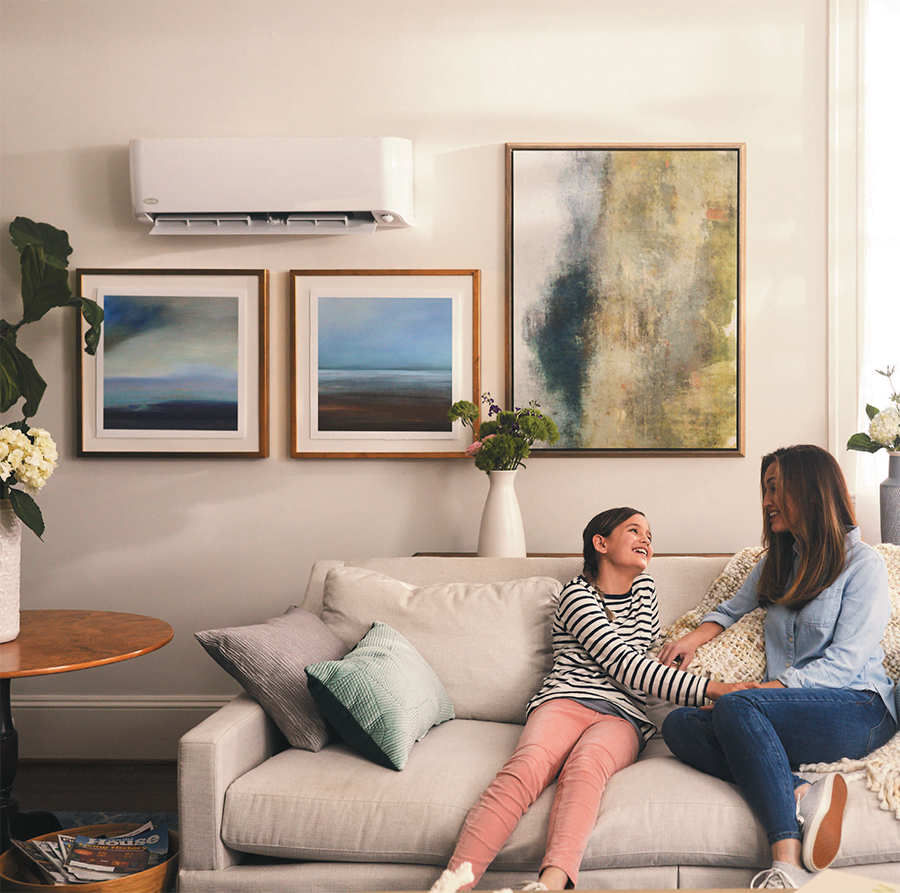 From bedrooms to garages, ductless heating and cooling systems provide comfort anywhere it's needed. No ductwork? Hot or cold spots? Multiple rooms? No problem. Ductless has got you covered. Ductless air conditioner systems come in all shapes and sizes, flexible enough to work however you need them. Learn more about popular ductless applications.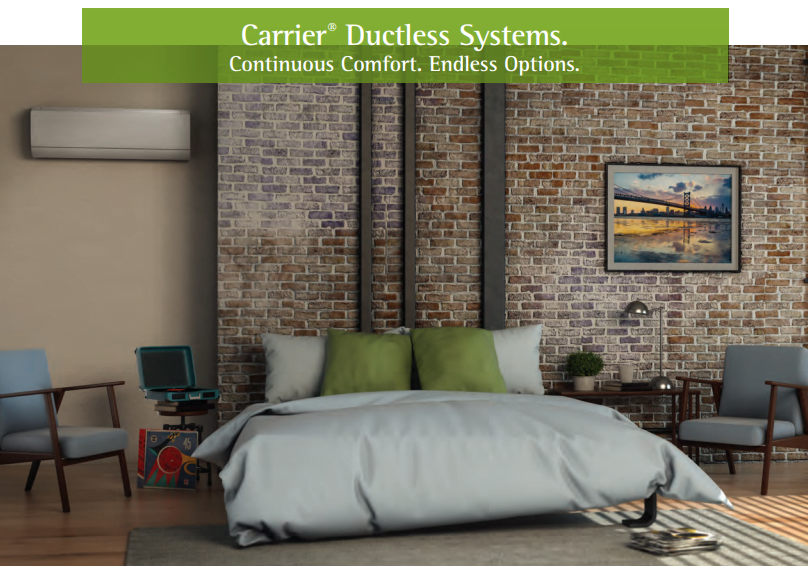 With virtually endless configuration options, a Carrier ductless AC unit provides flexibility to work where traditional HVAC doesn't. Long line length between outdoor and indoor components allow for a significant number of placement options. Each unit can be strategically located for enhanced comfort and minimal aesthetic impact. That includes mixing and matching high wall units with ducted, console or cassette units inside, with a single outdoor compressor for multi-zone systems.
A Focus on Quality
As a leading manufacturer of heating and air conditioning products, Luxaire® has a legacy of innovation, backed by class-leading quality. It's a story that continues to this day, with a premier line of high-performance heating and air conditioning equipment that continually sets the standard in reliability with premium performance you can trust.
Discreet Operation
With advanced technology designed to reduce vibration and sound, comfort and quiet operation go hand in hand.
Long-term Savings
The superior reliability and efficiency of Luxaire® AC units lower energy and maintenance costs over the life of your system.
Absolute Assurance
With precise craftsmanship and uncompromising warranties, Luxaire® air conditioners provide lasting comfort and satisfaction.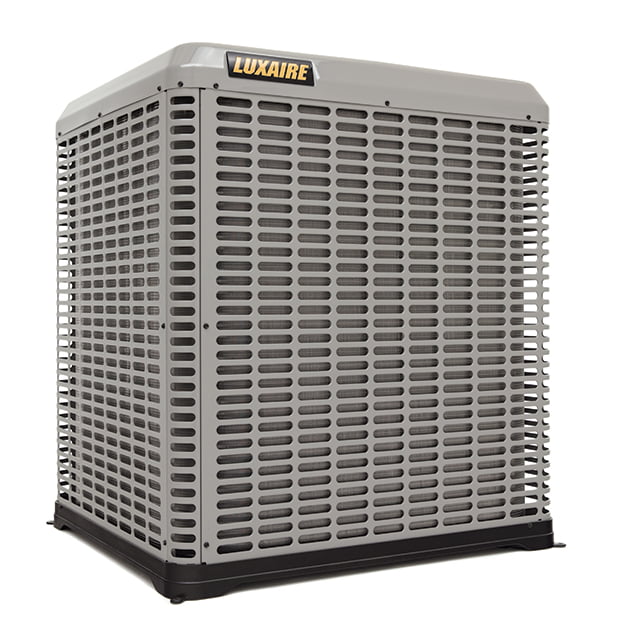 LUXAIRE DUCTLESS HEATING AND COOLING SYSTEMS
Luxaire Duct-Free Mini Splits offer High Efficiency, Control Options
These systems offer indoor options, multi-zone products, light commercial applications and low-ambient options.
Both single- and multi-zone systems are available and feature:
Ultra-high efficiency—up to 30 SEER

Wi-Fi, wired and central control options
Operating temperatures ranging from -22 F to 129 F
Capacities from 3/4 ton to four tons
Extended warranties