Keep your home just the way you want it, even when you're not at home.
Whether you're lounging on the couch on the other side of the room or lounging on a beach on the other side of the country, you can control your home comfort from virtually anywhere with a Wi-Fi thermostat from Carrier. With control at your fingertips, you can stay connected and take a hands-on approach to your home energy management.
Infinity Series Controls
The unrivaled capabilities of the Infinity control represent our highest degree of comfort management. This communicating control is designed exclusively for our Infinity system products and is the brains behind our ultra-efficient Greenspeed intelligence systems.
Technology lovers will rejoice over the Infinity control's energy management and remote access features.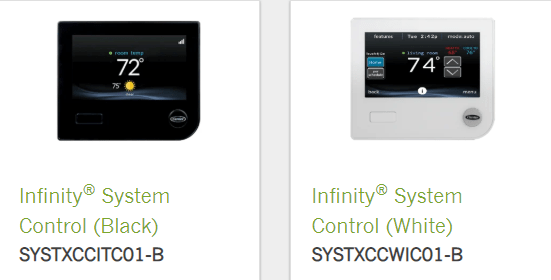 Côr  Wi-Fi Thermostats
Your heating and cooling system is where you spend most of your energy dollars, so saving on your utilities is important. The original Côr thermostat is designed to combine home comfort with reduced energy use; homeowners saved an average of 20% on their heating and cooling energy costs. It's what we call the heart of a smarter home.


Côr Non-Wi-Fi Thermostats
From simple, non-programmable options to controls that allow you to set up schedules to help you manage your home's energy, Carrier thermostats offer flexible solutions to your home comfort needs.

Performance Series Thermostats
Our Performance Series thermostats feature stylish, ultra-slim designs with easy-to-read screens and even easier-to-use interfaces. Available in programmable, and non-programmable models, this line offers models to precisely adjust temperature and manage humidity, both of which are essential when creating a Hybrid Heat system.
These thermostats can be used with either Performance or Comfort Series systems.